Understanding emotions and feelings can sometimes be a challenging task. For certain individuals, this difficulty is all the more profound, particularly for those experiencing Alexithymia. This condition, often associated with emotional blindness, impedes one's ability to identify and interpret their emotions. Fortunately, there are numerous coping strategies for Alexithymia that can make a significant difference.
These practical tips and techniques have been crafted to facilitate emotional recognition and expression, fostering improved emotional health. Through this guide, individuals dealing with Alexithymia can start their journey towards understanding and managing their emotions better. With the right strategies, overcoming the challenges associated with Alexithymia is indeed possible.
What is Alexithymia?
Alexithymia is a psychological condition that affects an individual's ability to identify and understand their own emotions. People with alexithymia struggle to express their feelings and often have difficulty recognising and describing their emotions accurately. The term "alexithymia" comes from the Greek words "a" (meaning without), "lexis" (meaning words), and "thymos" (meaning emotions or feelings).
Definition of Alexithymia
Alexithymia is characterized by challenges in emotional awareness, social attachment, and interpersonal relationships. Individuals with this condition find it difficult to differentiate between physical sensations and emotional experiences. They may struggle to verbalize their emotions or lack the vocabulary to effectively communicate their feelings to others.
Prevalence of Alexithymia
The prevalence of alexithymia varies across different populations, with estimates suggesting that approximately 10% of the general population experience significant alexithymic traits. It is more commonly observed in males, with studies indicating that men are more likely to exhibit alexithymic characteristics than women. However, it is important to note that alexithymia can affect individuals of any gender.
Understanding the prevalence of alexithymia is crucial for recognizing the significance of this condition and the need for coping strategies and support mechanisms for individuals who experience it.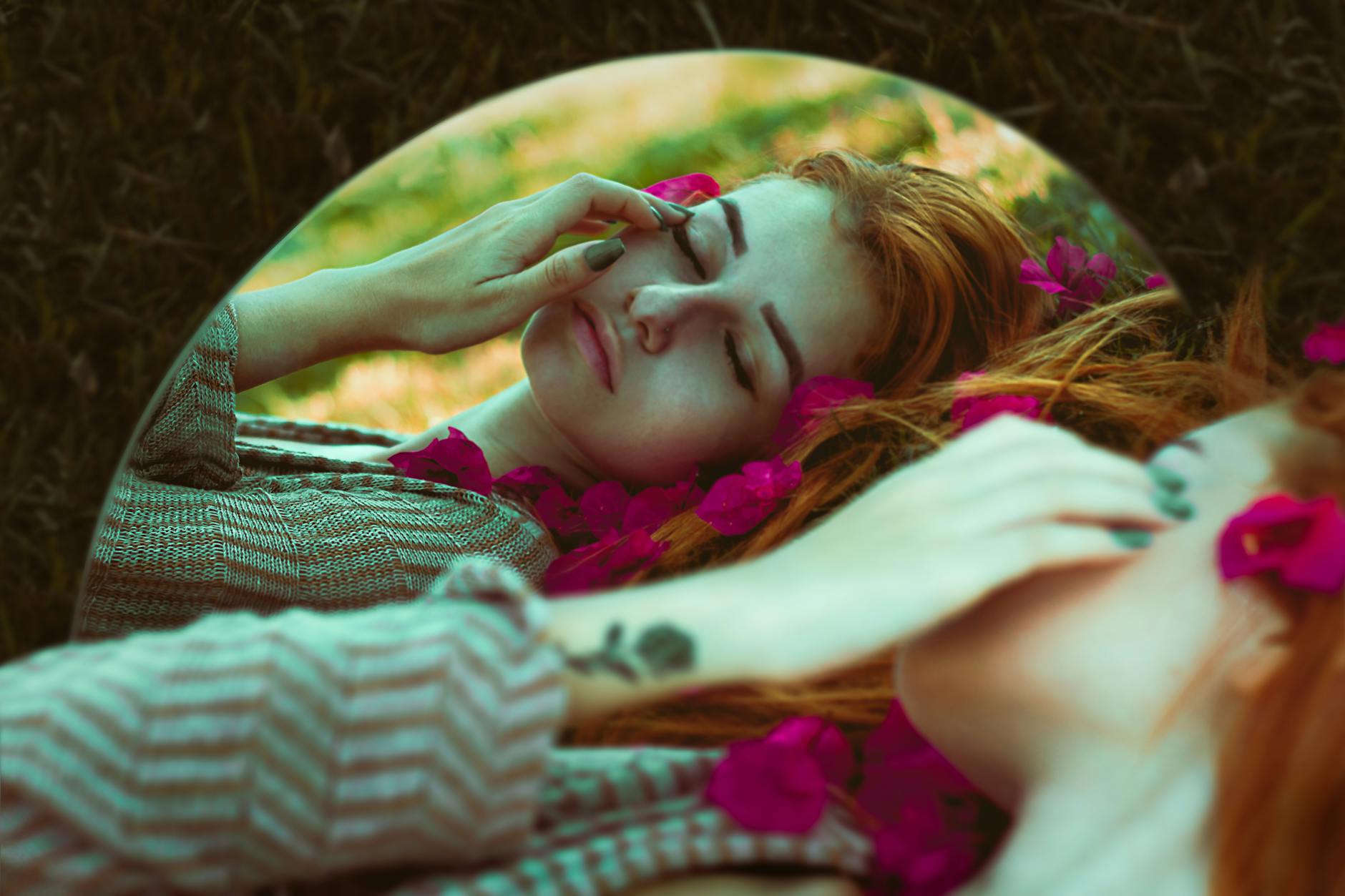 Woman Lying in Brown Grass Mirror Edited Photo (Photo by lucas souza)
Alexithymia can have a profound impact on an individual's life, affecting their emotional well-being, relationships, and overall quality of life. It is important to raise awareness about this condition and provide practical tips and techniques to help individuals cope with the challenges it presents.
In the following sections, we will explore various coping strategies that can be beneficial for individuals with alexithymia, enabling them to navigate their emotions more effectively and enhance their emotional well-being.
Challenges Faced by Individuals with Alexithymia
Individuals with Alexithymia face several unique challenges when it comes to understanding and expressing their emotions. This condition, characterized by difficulties in recognizing and describing emotions, can significantly impact their daily lives and relationships. In this section, we will delve into some of the key challenges faced by individuals with Alexithymia.
Difficulty Identifying and Describing Emotions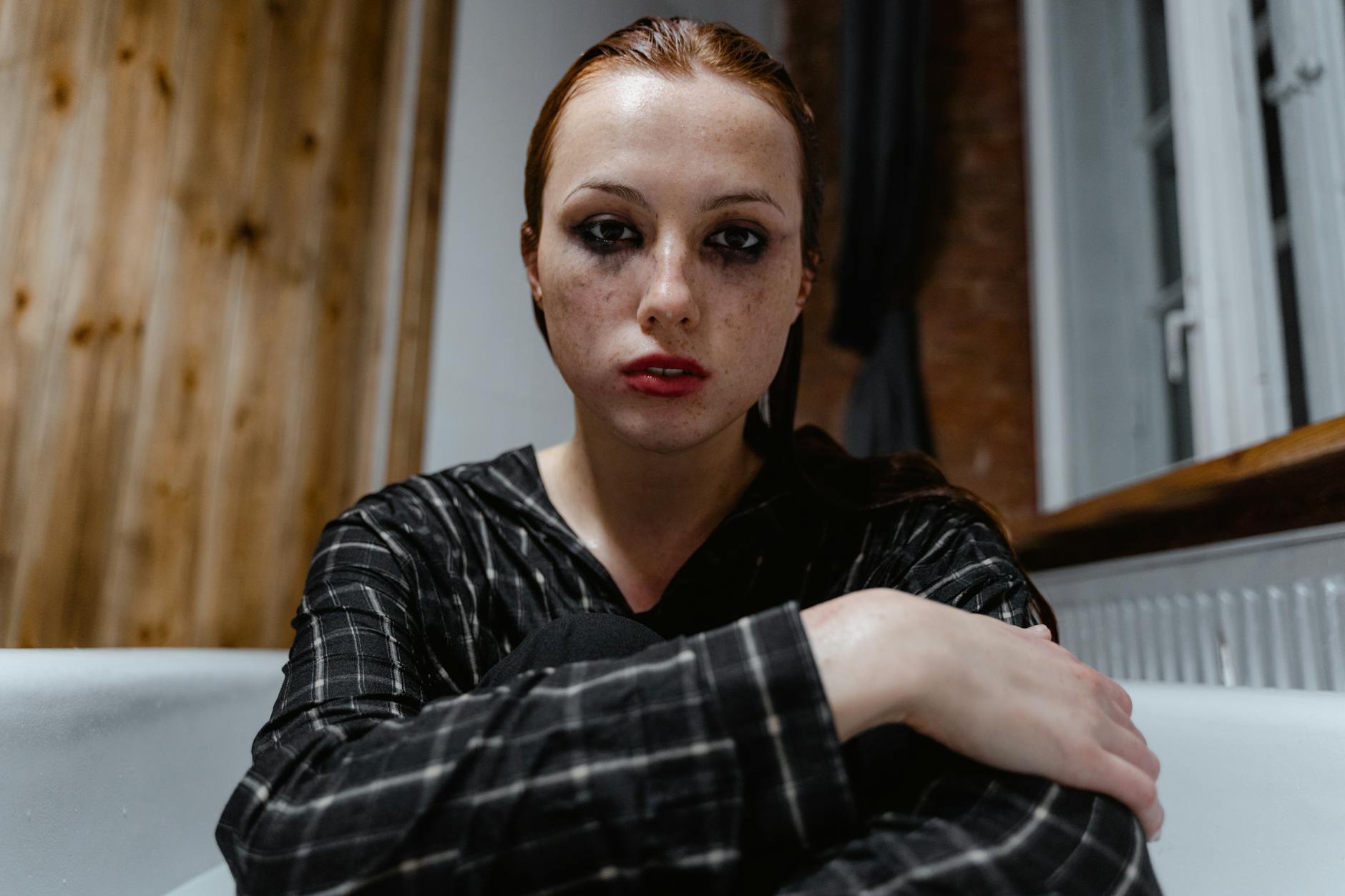 Close-up Photo of Woman with Smudged Mascara (Photo by MART PRODUCTION)
One of the primary challenges for individuals with Alexithymia is the difficulty in identifying and describing their own emotions. They often struggle to put a name to what they are feeling, as if their emotional vocabulary is limited or inaccessible. This can lead to a sense of confusion and frustration, as they may find it challenging to understand their emotional experiences fully.
Poor Emotional Regulation Skills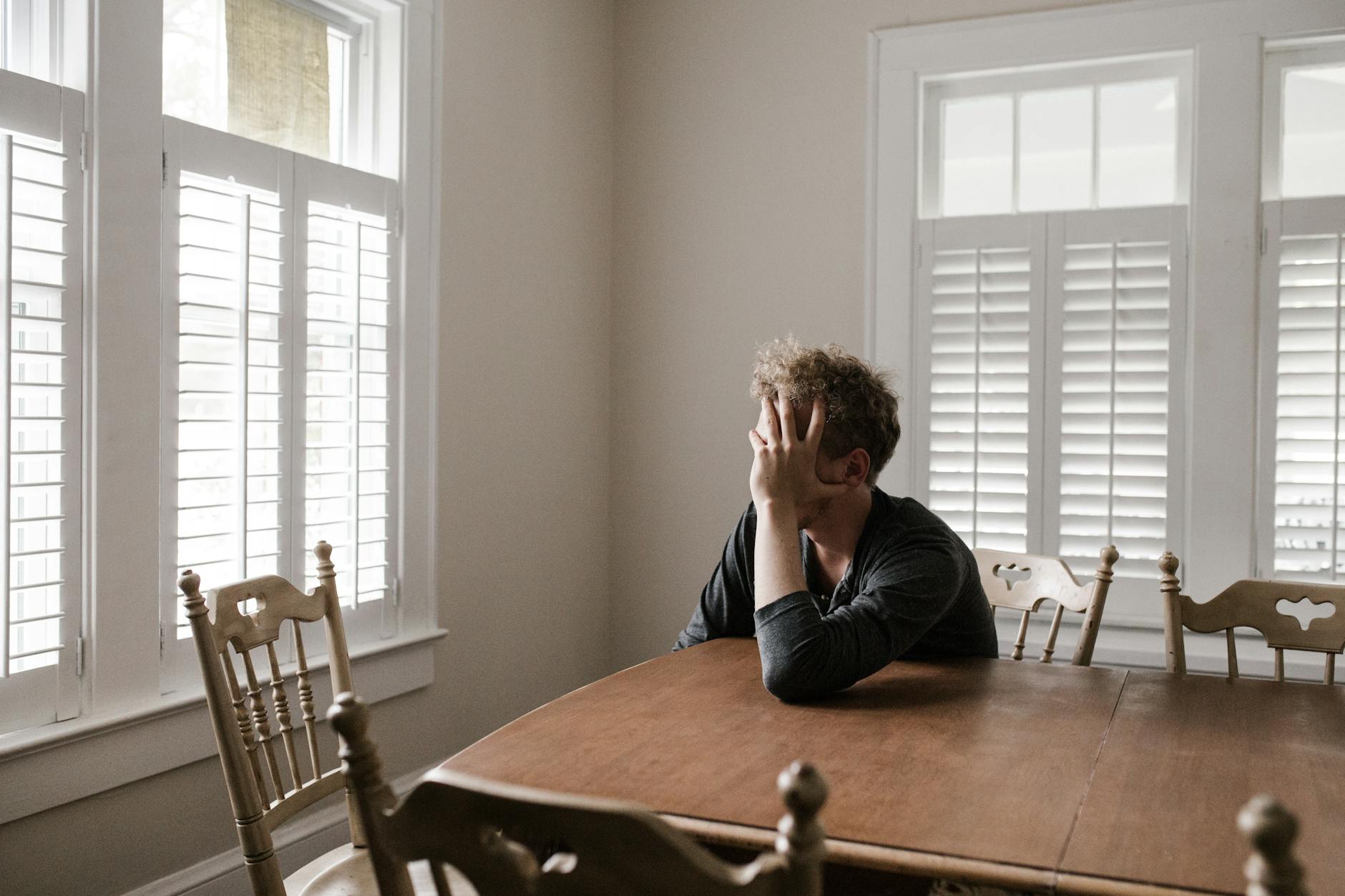 Photo of Man Leaning on Wooden Table (Photo by Andrew Neel)
Another significant challenge faced by individuals with Alexithymia is poor emotional regulation skills. Without a clear understanding of their emotions, they may find it challenging to manage and control them effectively. This can result in intense emotional outbursts or difficulties in expressing their feelings in a healthy and constructive manner. Developing strategies to regulate emotions becomes crucial for individuals with Alexithymia to navigate their daily lives successfully.
Read: Emotional regulation vs emotional control
Emotional dysregulation and rejection sensitivity
Struggles with Empathy and Emotional Connection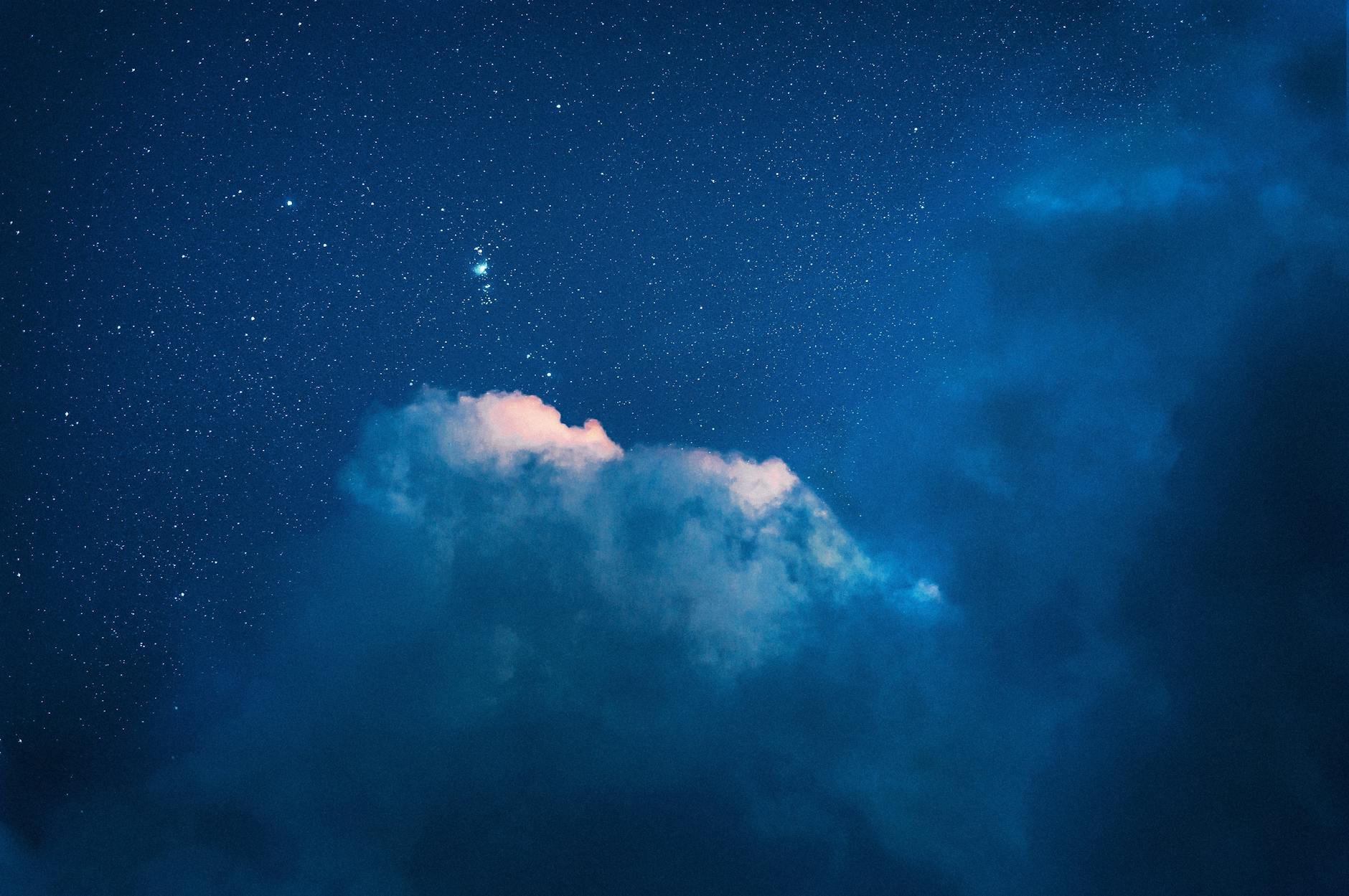 Blue and White Sky With Stars (Photo by Rafael Cerqueira)
Individuals with Alexithymia often encounter difficulties in empathizing with others and forming emotional connections. Due to their limited emotional awareness, they may struggle to understand and relate to the emotions experienced by those around them. This can lead to challenges in building and maintaining meaningful relationships, as empathy and emotional connection play vital roles in interpersonal dynamics.
In conclusion, individuals with Alexithymia face several challenges related to recognizing, expressing, and understanding their emotions. The difficulties in identifying and describing emotions, poor emotional regulation skills, and struggles with empathy and emotional connection can significantly impact their personal and social lives. However, with awareness, understanding, and the implementation of coping strategies, individuals with Alexithymia can work towards overcoming these challenges and improving their overall well-being.
Coping Strategies for Individuals with Alexithymia
Living with alexithymia can present unique challenges when it comes to understanding and expressing emotions. However, there are various coping strategies that individuals with alexithymia can utilize to navigate their emotional world more effectively. In this article section, we will explore practical tips and techniques that can help individuals with alexithymia develop emotional awareness, utilize therapy techniques, engage in mindfulness and meditation practices, seek support, build social connections, and engage in creative outlets for emotional expression.
Developing Emotional Awareness
Developing emotional awareness is a crucial aspect of coping with alexithymia. It involves understanding, recognising, and labeling emotions. While it may feel overwhelming at first, there are steps you can take to enhance your emotional awareness:
Journaling: Keep a journal to jot down your thoughts and feelings throughout the day. Reflect on these entries to identify recurring patterns and gain insight into your emotions.
Emotion Charts: Utilise emotion charts or wheels that provide visual representations of different emotions. This can help you identify and label what you are feeling.
Utilising Cognitive Behavioral Therapy Techniques
Cognitive Behavioral Therapy (CBT) techniques can be beneficial for individuals with alexithymia as they address the connection between thoughts, emotions, and behaviors. Here are some CBT techniques that can be helpful:
Thought Records: Keep a record of your thoughts in challenging situations. Analyze these thoughts to identify any patterns or cognitive distortions that may be influencing your emotions.
Behavioral Activation: Engage in activities that bring you joy and a sense of accomplishment. By focusing on positive experiences, you can enhance your emotional well-being.
Engaging in Mindfulness and Meditation Practices
Mindfulness and meditation practices can help individuals with alexithymia develop a greater sense of present-moment awareness and acceptance. Consider incorporating these practices into your daily routine:
Breathing Exercises: Practice deep breathing exercises to promote relaxation and reduce anxiety. Focus on the sensation of your breath entering and leaving your body.
Body Scan Meditation: Perform a body scan meditation, where you bring attention to each part of your body, observing any physical sensations or emotions that arise.
Seeking Support from Mental Health Professionals
Seeking support from mental health professionals can be instrumental in navigating the challenges of alexithymia. Consider the following avenues for support:
Therapy: Engage in individual therapy, such as psychotherapy or talk therapy, to explore your emotions in a safe and supportive environment.
Support Groups: Join support groups specifically tailored for individuals with alexithymia. Hearing others' experiences and sharing your own can provide valuable insights and support.
Building and Maintaining Social Connections
Building and maintaining social connections can contribute to emotional well-being and provide opportunities for emotional growth. Consider the following strategies:
Active Listening: Practice active listening skills when engaging in conversations with others. Focus on understanding their emotions and perspectives.
Empathy Exercises: Engage in empathy exercises, such as putting yourself in someone else's shoes, to develop a deeper understanding of emotions.
Engaging in Creative Outlets for Emotional Expression
Engaging in creative outlets can provide individuals with alexithymia with alternative ways to express and process emotions. Consider the following activities:
Art Therapy: Explore art therapy, which can involve painting, drawing, or sculpting, as a means of expressing emotions that may be difficult to put into words.
Writing: Use writing as a creative outlet. Express your thoughts and emotions through poetry, stories, or personal narratives.
By incorporating these coping strategies into your daily life, you can enhance your emotional well-being and develop a greater understanding and acceptance of your emotions.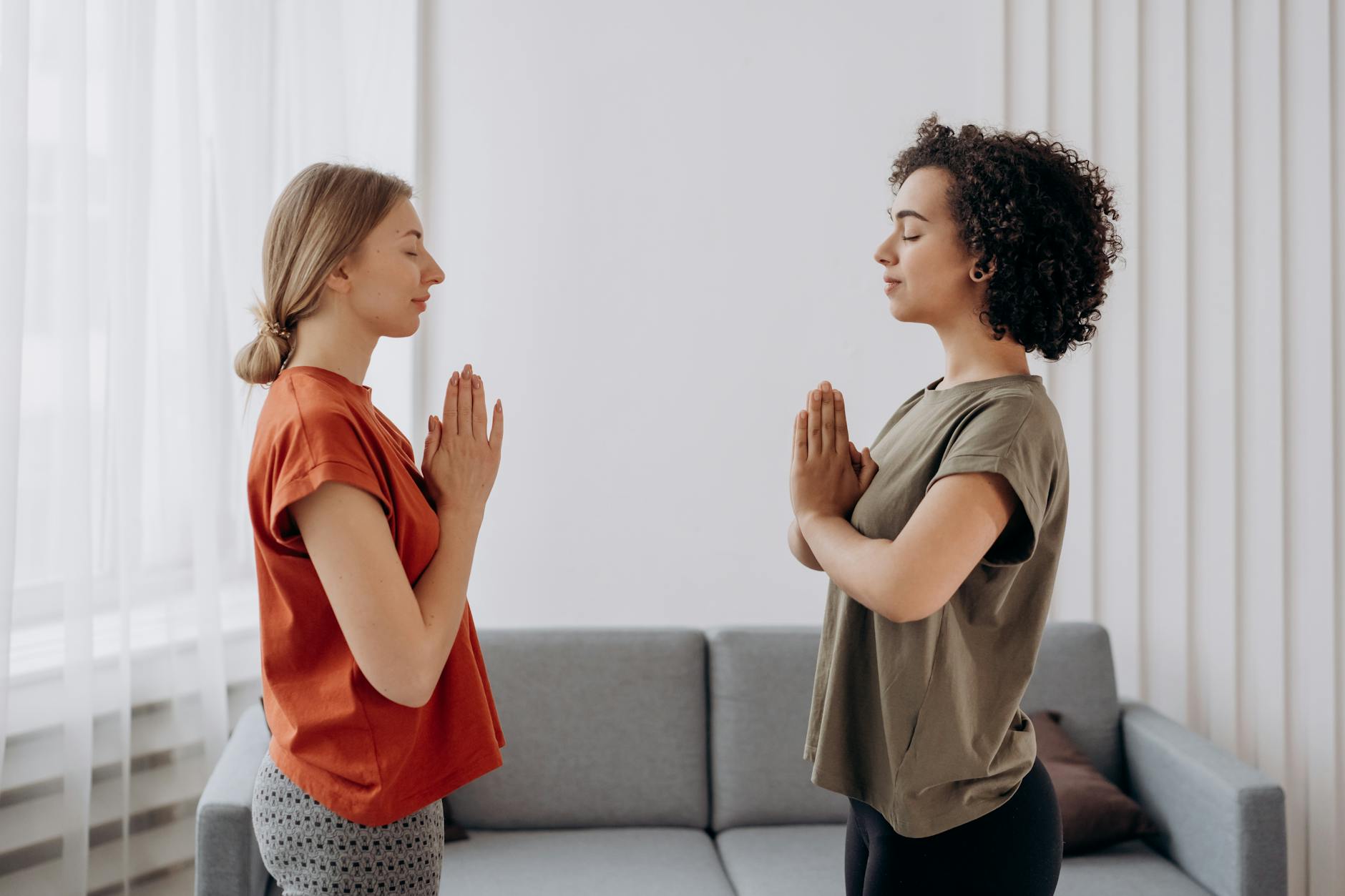 Two Women Doing Yoga (Photo by Mikhail Nilov)
Coping Strategies for Alexithymia
Establishing a Routine and Structure
Creating a routine and structure can provide a sense of stability for individuals with alexithymia. By having a consistent daily schedule, it becomes easier to navigate through everyday life. Here are some practical tips to establish a routine:
Set a daily schedule: Plan out your day in advance, making sure to allocate time for different activities such as work, leisure, and self-care.
Stick to regular mealtimes: Eating meals at the same time each day helps maintain a stable routine and supports overall well-being.
Prioritise sleep: Establish a regular sleep routine to ensure adequate rest, as it plays a crucial role in emotional regulation.
Using Visual Cues for Emotional Identification
One of the primary challenges for individuals with alexithymia is identifying and understanding their emotions. Visual cues can be helpful in bridging this gap. Consider the following strategies:
Emotion charts: Use visual aids, such as emotion charts or posters, that display facial expressions associated with different emotions. This can help individuals recognize and label their own emotions.
Emotional vocabulary cards: Create flashcards with emotion words and corresponding images. Practice matching the emotions to the visual cues to enhance emotional identification skills.
Body language observation: Pay attention to non-verbal cues from others, such as facial expressions and body language, to understand emotional states in different social contexts.
Journaling and Writing as Emotional Release
Writing can serve as an effective outlet for emotional expression, especially for individuals with alexithymia who may struggle with verbalizing their feelings. Consider the following techniques:
Journaling: Set aside regular time to write in a journal about your thoughts, experiences, and emotions. This can help you gain insight into your feelings and promote self-reflection.
Emotional writing: Engage in a focused writing exercise where you explore and describe your emotions in detail. This can help you develop a deeper understanding of your emotional experiences.
Letter writing: Write letters to yourself or others, expressing your emotions and thoughts. You don't necessarily have to send them; the act of writing can provide a sense of release and clarity.
Engaging in Physical Exercise and Healthy Habits
Physical exercise and healthy habits play a vital role in promoting overall well-being and managing emotions. Consider incorporating the following into your daily routine:
Regular exercise: Engage in physical activities that you enjoy, such as walking, swimming, or yoga. Exercise releases endorphins, which can improve mood and reduce stress.
Mindful practices: Explore mindfulness techniques, such as meditation or deep breathing exercises, to help regulate emotions and promote relaxation.
Healthy lifestyle choices: Maintain a balanced diet, get enough sleep, and limit the consumption of substances like alcohol and caffeine. These habits can positively impact emotional well-being.
Creating a Safe and Comfortable Environment
Establishing a safe and comfortable environment can provide individuals with alexithymia with a sense of security and stability. Consider the following suggestions:
Declutter and organise: Create an organised space that promotes a sense of calm. Remove unnecessary clutter and arrange your belongings in a way that feels visually appealing and soothing.
Personalize your surroundings: Surround yourself with objects, photographs, or artwork that hold positive emotional significance for you. These personalized touches can create a welcoming environment.
Consider sensory preferences: Pay attention to your sensory preferences, such as lighting, temperature, and noise levels. Adjust your environment accordingly to optimize comfort and minimize sensory overload.
Remember, coping with alexithymia is a unique journey for each individual. It may require trial and error to find which strategies work best for you. By implementing these practical tips and techniques, you can enhance your daily life and better navigate the complexities of your emotions.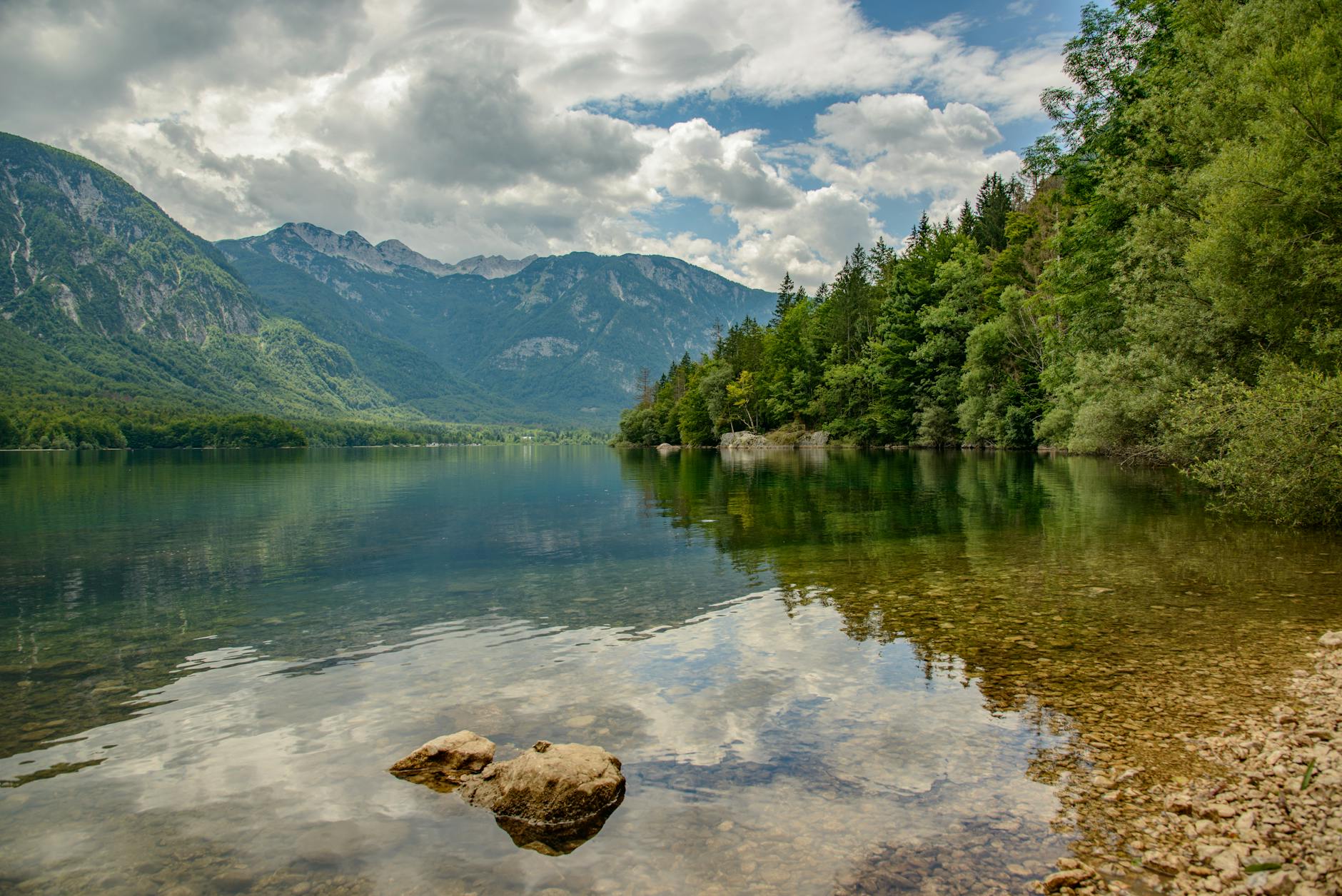 Breathtaking landscape of calm lake with clear water located between lush green forest and high mountains against cloudy blue sky (Photo by Petr Ganaj)
Techniques for Improving Emotional Communication
Effective emotional communication is essential for individuals with alexithymia to develop healthier relationships and cope with their condition. By improving their ability to communicate emotions, they can enhance their connections with others and better express their own needs and feelings. Here are three techniques that can help individuals with alexithymia improve their emotional communication skills:
Active Listening and Asking Open-Ended Questions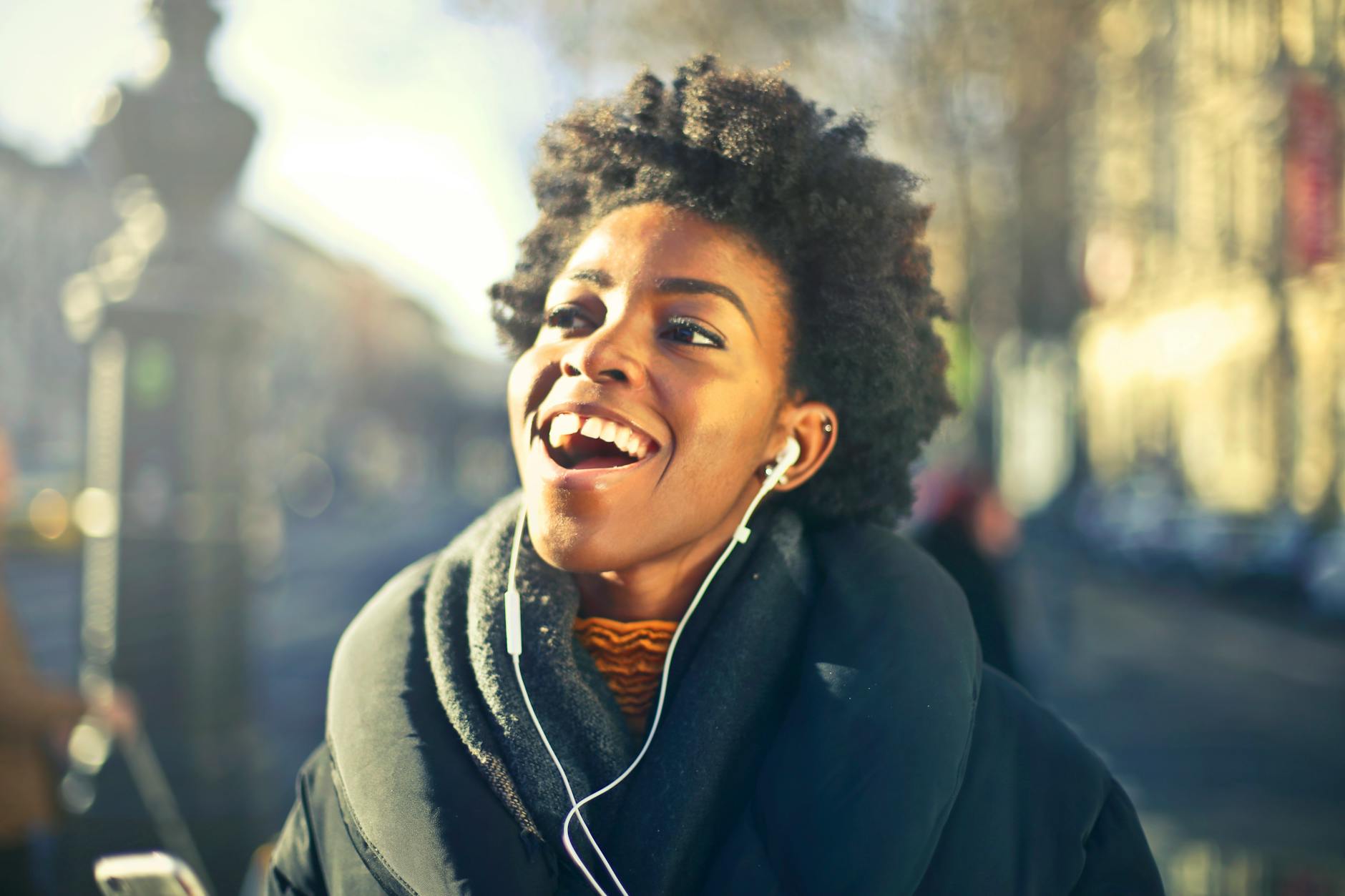 Close-up Photo of a Woman Listening to Music (Photo by Andrea Piacquadio)
Active listening involves fully focusing on what the other person is saying, without interruption or distraction. By giving your undivided attention, you demonstrate empathy and show that you value the person's emotions. Engage in active listening by maintaining eye contact, nodding or using verbal cues to show that you are attuned to their message.
Asking open-ended questions is another effective way to encourage emotional expression. Instead of closed-ended questions that can be answered with a simple "yes" or "no," open-ended questions prompt deeper reflection and encourage individuals to delve into their feelings. For example, instead of asking, "Are you sad?" you could ask, "How does this situation make you feel?" This allows individuals with alexithymia to explore and articulate their emotions more effectively.
Learning and Using Emotional Vocabulary
A Woman in Gray Shirt Dancing on the Field (Photo by cottonbro studio)
One of the challenges individuals with alexithymia face is identifying and labeling their emotions. Learning and using emotional vocabulary can greatly assist in overcoming this barrier. Encourage individuals to expand their emotional vocabulary by familiarizing themselves with a wide range of emotions and their corresponding words. This could involve creating a list of emotions and their definitions, or using emotion chart resources readily available online.
Practising emotional vocabulary regularly is crucial. Encourage individuals to express their emotions using appropriate words, whether through written exercises, journaling, or conversations with trusted friends or therapists. The more they engage with emotional language, the better equipped they will be to identify and communicate their emotions effectively.
Non-Verbal Communication Strategies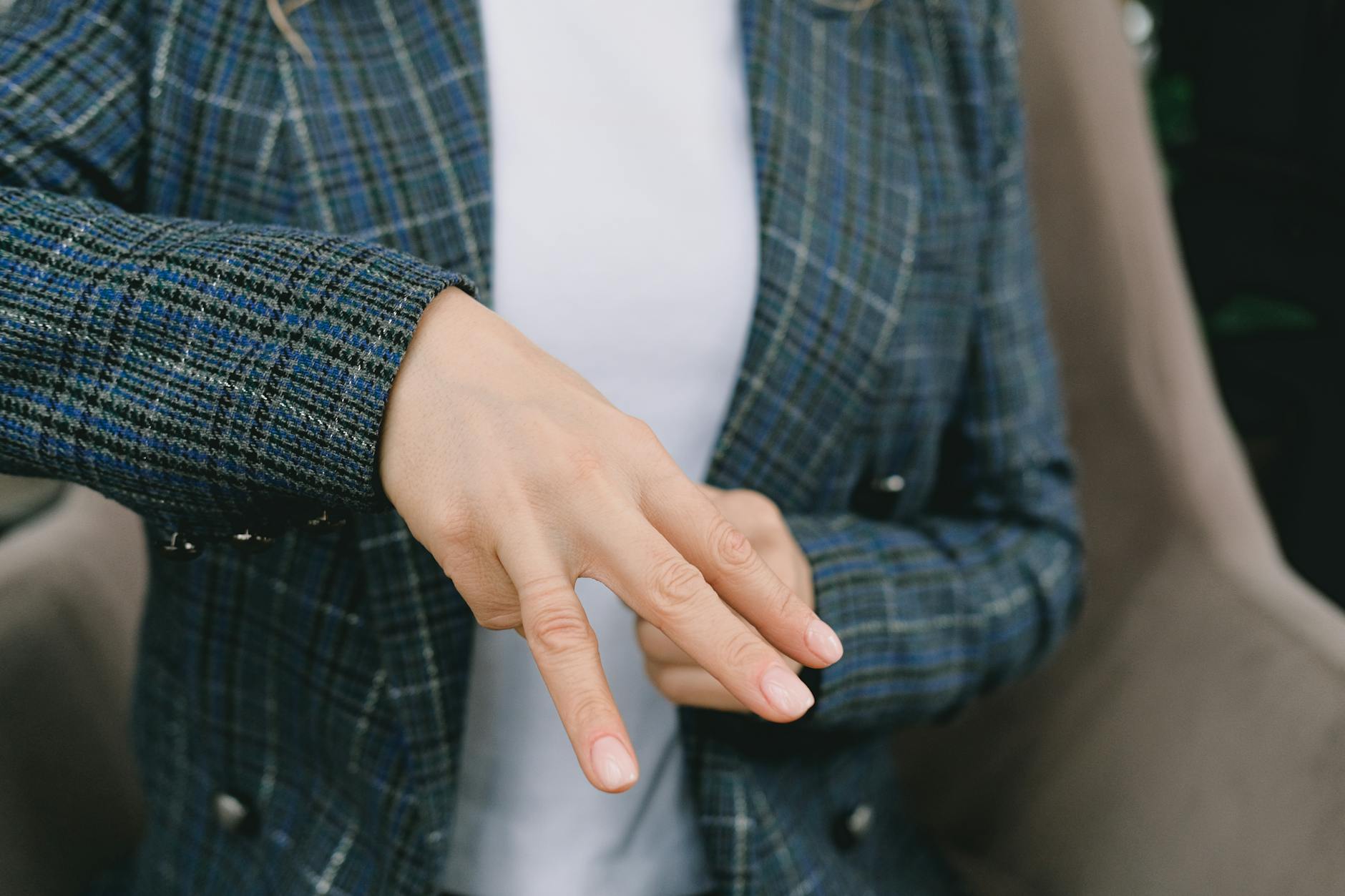 Faceless lady showing three fingers gesture while practicing sign language (Photo by SHVETS production)
Non-verbal communication plays a significant role in emotional expression. For individuals with alexithymia, non-verbal cues can serve as valuable tools to convey their emotions when verbal communication seems challenging. Encourage individuals to pay attention to their body language, facial expressions, and gestures.
They can practice using non-verbal cues intentionally to express their emotions. For example, they might try using a gentle touch or a warm smile to convey affection, or a relaxed posture when feeling at ease. Learning to interpret and respond to non-verbal cues from others is equally important. By observing and mirroring the non-verbal signals of those around them, individuals with alexithymia can develop a stronger understanding of the emotions being conveyed.
Improving emotional communication requires effort and practice, but it is a skill that can be developed over time. Active listening, asking open-ended questions, expanding emotional vocabulary, and utilizing non-verbal communication strategies can all contribute to enhanced emotional expression and more fulfilling relationships for individuals with alexithymia.
Remember, it's essential to approach individuals with empathy and understanding as they navigate their emotions. By employing these techniques and providing a supportive environment, you can help individuals with alexithymia develop the tools they need to improve their emotional communication skills.
Strategies for Building Empathy and Emotional Connection
In this section we
Practising Perspective-Taking Exercises
To develop empathy and establish emotional connections, individuals with alexithymia can benefit from practising perspective-taking exercises. By putting themselves in someone else's shoes, they can gain a deeper understanding of others' feelings and experiences. Here are some effective exercises to try:
Role Reversal: Imagine yourself in the situation of another person, facing the challenges they are currently dealing with. How would that make you feel? What emotions would arise? By mentally placing yourself in their position, you can start to develop a sense of empathy.
Narrative Writing: Write a short story or journal entry from the perspective of someone else. This exercise allows you to explore different emotions and experiences, enhancing your ability to empathize with others.
Group Discussions: Engage in group discussions where individuals share personal experiences and emotions. Actively listen to others and try to understand their perspectives. By actively participating in these discussions, you can expand your emotional understanding.
Engaging in Empathy-Building Activities
In addition to perspective-taking exercises, engaging in empathy-building activities can significantly improve emotional connection skills. Here are some activities to consider:
Volunteer Work: Engage in volunteering activities that involve interacting with individuals from diverse backgrounds. This allows you to develop a better understanding of others' struggles and emotions, fostering empathy.
Reading Fiction: Dive into novels or short stories that explore complex emotional landscapes. Fictional characters can serve as windows into different perspectives and help you relate to a wide range of emotions.
Attending Support Groups: Join support groups or therapy sessions where individuals discuss their emotions and experiences. Being in a supportive environment can expose you to a variety of emotions and help you develop emotional connections.
Remember, building empathy and emotional connection is a gradual process. Start with small steps and be patient with yourself. Celebrate every milestone along the way. By actively engaging in these strategies, individuals with alexithymia can enhance their emotional intelligence and forge stronger connections with others.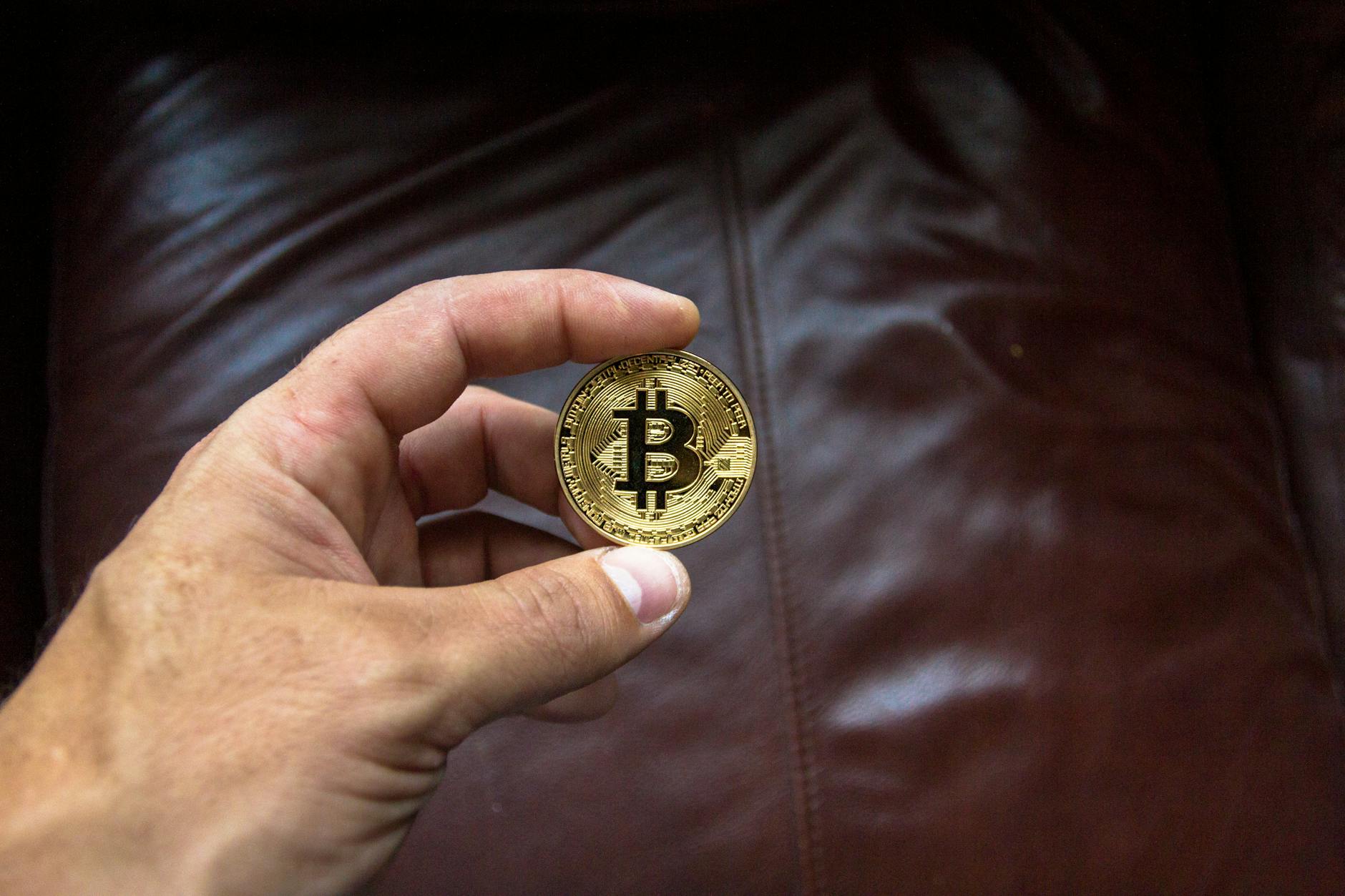 Round Gold-colored and Black Coin on Person's Hand (Photo by Worldspectrum)
Conclusion
By practising mindfulness and self-reflection, individuals with alexithymia can develop a deeper understanding of their emotions and learn how to express them effectively. Additionally, seeking therapy from a mental health professional who specializes in alexithymia can provide valuable guidance and support. Remember, coping with alexithymia is an ongoing process, but individuals can lead fulfilling and emotionally balanced lives with the right tools and techniques.